Hybris – Krackalackin / Munchies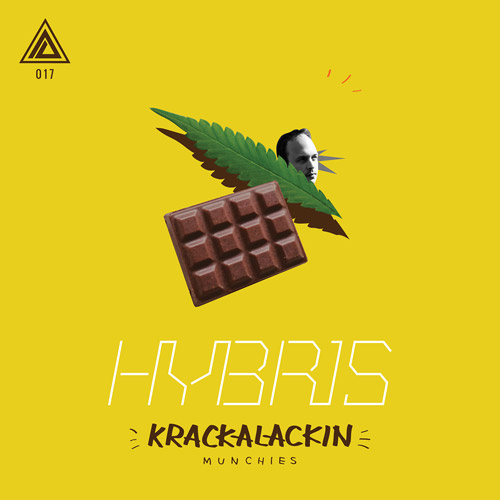 In stock
Hybris – Krackalackin / Munchies
▲ ▲ ▲ ▲ ▲ ▲ ▲ ▲ ▲ ▲ ▲ ▲ ▲ ▲ ▲ ▲ ▲ ▲ ▲ ▲ ▲ ▲ ▲ ▲ ▲ ▲ ▲ ▲
Plasma 017 – Hybris – Krackalakin // Munchies – Out now at: tiny.cc/plasma017
Drum & Bass adventurer Hybris is known for his consummate sound design, but his latest release with Melbourne-based collective Plasma Audio sees the Prague-based producer venturing deep into a concept with Plasma partners Safire and Akane that has made the art as tangible as Hybris' own audio textures.
As discussed with UKF earlier this week, Hybris and the Plasma team became inspired by his forthcoming two-tracker Krackalakin/Munchies and immediately felt a need to build something real around it. Safire explained the process in detail —
Our focus was to keep elements in the design our own, all things are real – the chocolate, leaf, hand drawn font and obviously Hybris's face. Once the design was complete, it was adapted to fit a generic block size, we wrapped a chocolate block and did some product photography. It feels like there is so much digital work around, not much is made by hand or has a natural element to it…. We want to bring the human side back into art and music.
Today, Hybris and Plasma premiere the A-side, "Krackalakin," which sees Hybris "having fun with getting crackly textures out of a soft synth" in meandering halftime. Stream "Krackalakin" below ahead of its release this Friday, June 9th, and head over to UKF to read up on the rest of the story regarding this out-of-the-box EP.
| | |
| --- | --- |
| Digital Download Products | Hybris – Krackalackin / Hybris – Munchies, Hybris – Krackalackin, Hybris – Munchies |